The Badgers

Year

2

The Foxes
Here you will find information about the topics we have covered over the year and the trips and events that we have undertaken. We like to get out and about in the local community and enjoy many visitors coming into school.

Year 2 encourages and focuses on independence and offers many responsibilities to the children to take on roles within the classroom and the school as a whole.

Take a look at what we have been learning about and enjoy viewing the photos of our trips and events.
Traction Man is Here!

Well what an unusual spring term we have had this year! The first half of the term was huge fun.

We started back after Christmas with a three-week English topic based on the story of 'Traction Man Is Here'. The children took part in role-play, creating new outfits for him and creating our own stories using a comic strip layout, which were magnificent.

Circus Week

We also enjoyed the enormous fun of Circus Week. It is interesting to see how the children are able to build on their skills from the previous year and continue to improve. It can also be a positive opportunity for children to excel in an area if they find other curriculum areas more challenging.

Puppets

During Circus Week the children made their own puppet. They were all based on a character that you might meet in a circus. They started by choosing the materials they would like to use, then using these to create their design. They all had a practise go at sewing before cutting out the front and back of their puppet and joining them with their beautiful stitching. They finished off by decorating it according to their plan, and some of them decided to make a small change, which they felt would improve their finished product.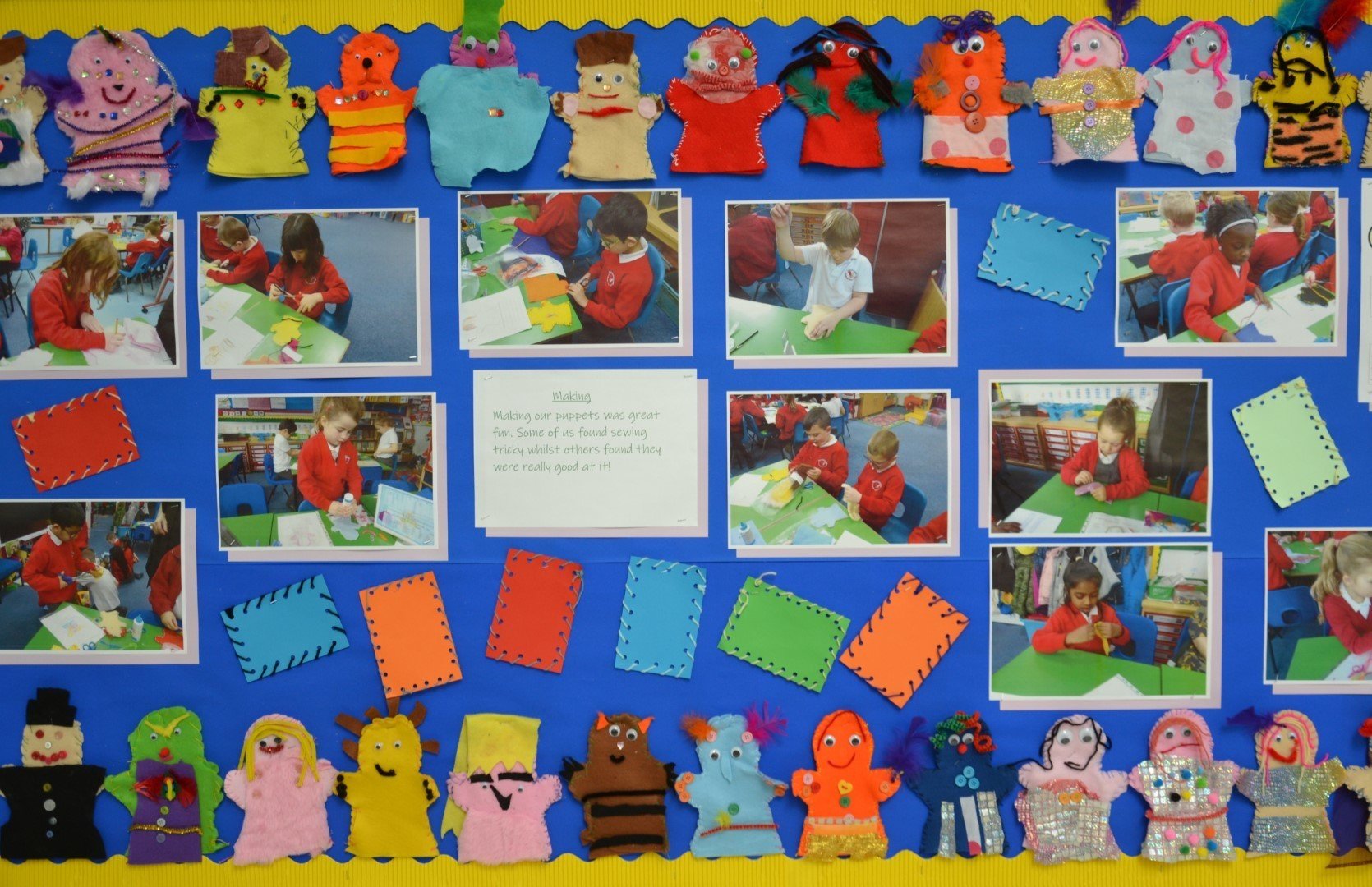 Art Week

For the spring art week, we decided to study someone that was new to us, My Dog Sighs, who is a local street artist. The most exciting thing about this was that every day children would come to school saying that they had spotted a new piece of his work somewhere in the city. They thoroughly enjoyed finding out about him and creating their own piece of art in his very distinctive style.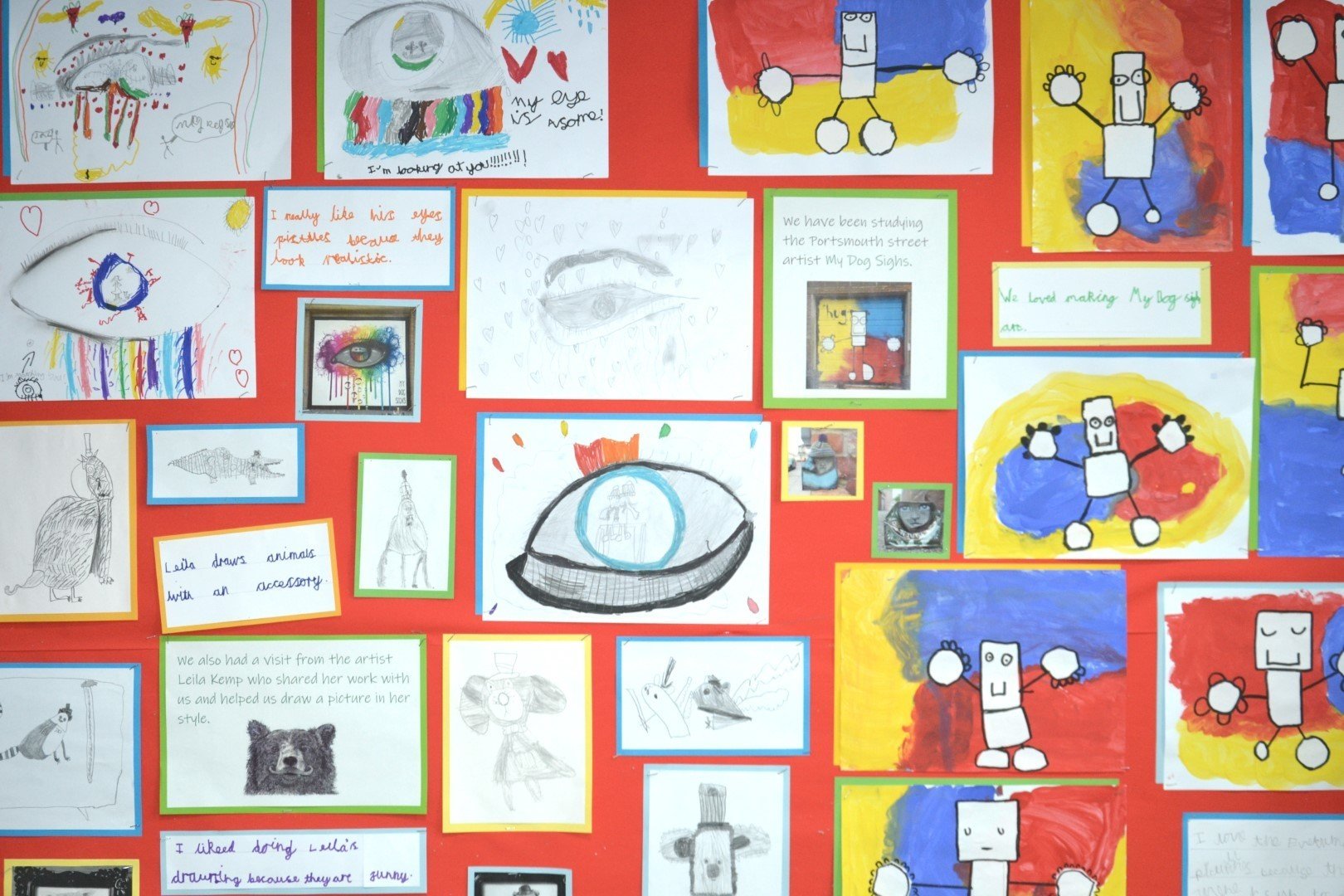 The Great Fire of London

Our Great Fire of London topic is always a great hit, with the children engaging wonderfully. Again, they learned the story and Samuel Pepys through role-play and hot seating as well as finding out about the past in different ways. They imagined themselves back in 1666 during the fire and wrote a diary entry about what they imagined it would be like.
It was an obvious time to discuss fire safety and what action to take if they ever discover themselves in a fire.

Unfortunately, this is as far as we got through the term before schools were partially closed due to the Corona virus.

| | | |
| --- | --- | --- |
| | | |
| | Autumn Term 2019 | |
The Three Little Pigs

The Autumn term was a busy one! It began with our topic on the Three Little Pigs, where we explored different versions of this traditional fairly tale.
Science

We spent lots of time exploring animals during our science topic and the children produced some fantastic non-fiction writing. We learned about what humans need to survive and stay healthy. The children loved designing, making and eating a sandwich!
Art Week (Bridgette Riley)

Everyone loved our art week where we learned about the Op-Art of Bridgette Riley. The children created some incredible individual and collaborative art.

The Gunpowder Plot

The children were fascinated about our topic in Guy Fawkes. They enjoyed learning about the Gunpowder Plot, looking at historical sources and deciding whether they though Guy Fawkes or King James I was right.
There was some thought-provoking discussion about whether his actions were justified or not and the children produced some very persuasive writing!

The Owl and the Pussycat

The children loved discovering Edward Lear's poem "The Owl and the Pussy-cat". They enjoyed learning to recite it and exploring the wonderful vocabulary. To finish our topic, the children wrote an extra verse for the poem to continue the story. There were some wonderful ideas which they loved performing to the class.
Christmas

We finished the half term performing our Christmas performance, Angel Express, which linked very well with the RE topic, Angels, and how important they were as messengers in the Christmas story. This year's performance enabled lots of children to have a role and everyone performed brilliantly on the day.


| | | |
| --- | --- | --- |
| | A big thank you to all those parents who joined us for Santa's Workshop. They were well attended and both adults and children seemed to have lots of fun. | |

| | | |
| --- | --- | --- |
| | | Click logo for Purple Mash |