The Rabbits

Year

R

The Fieldmice
Welcome to Reception – We are Rabbit and Fieldmice class!

| | | |
| --- | --- | --- |
| | Spring Term 2019 | |

Penguins

Our first topic for this half term has been Penguins. We have been learning lots of different facts about penguins. We made a talking picture map to help us remember our new knowledge. We also painted pictures of different types of penguins.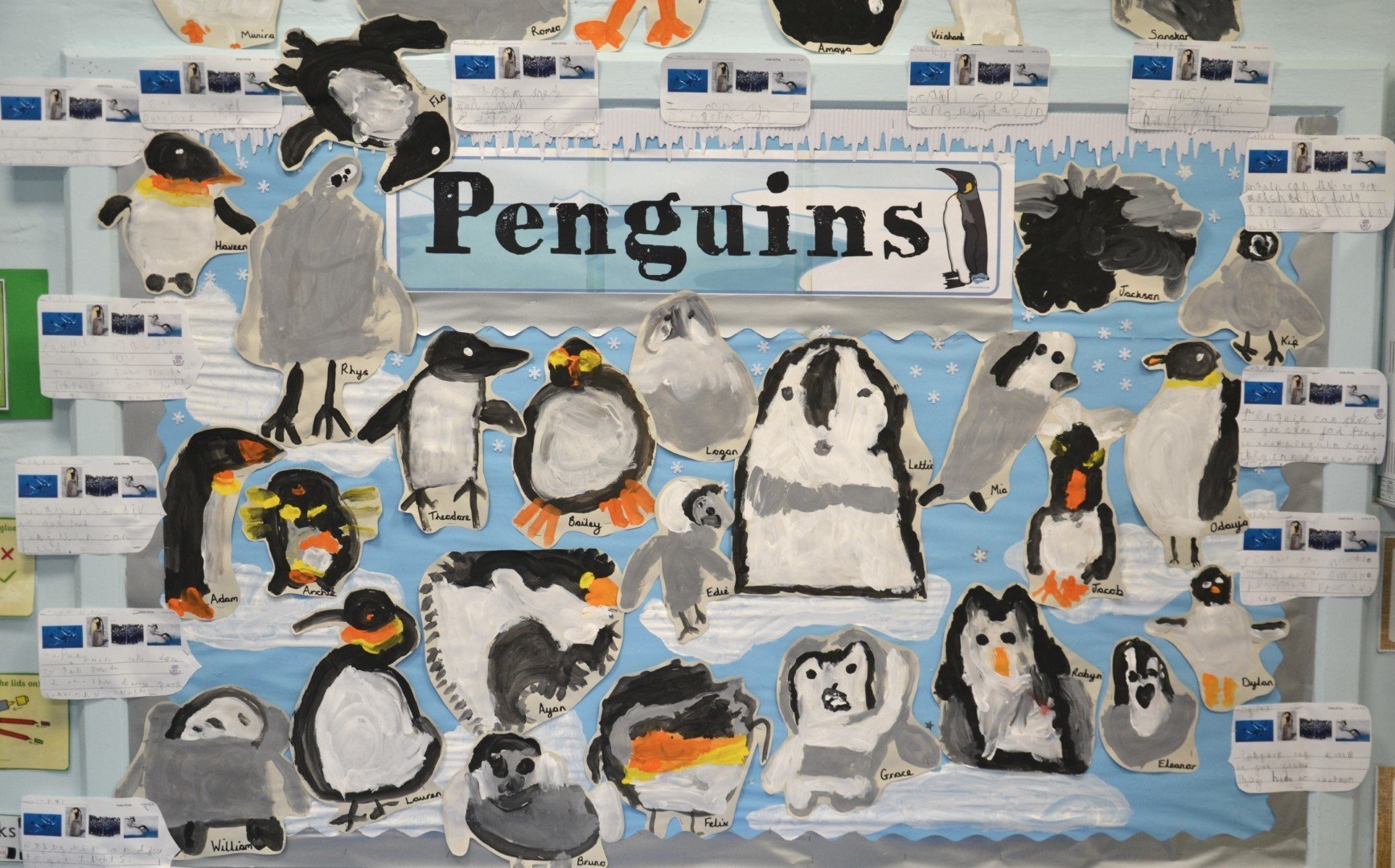 THE CIRCUS CAME TO TOWN!

We had lots of fun learning circus tricks for the very first time! We learnt how to spin plates, balance feathers, spin the diablo, walk the tightrope and many more. The best part was getting all dressed up and performing to our parents at the end of the week!

Doug Hyde Art Week

Doug Hyde is the most popular contemporary living artist in the UK
Here are some of his pictures.
We created our own paintings in the style of Doug Hyde, using printing and painting techniques.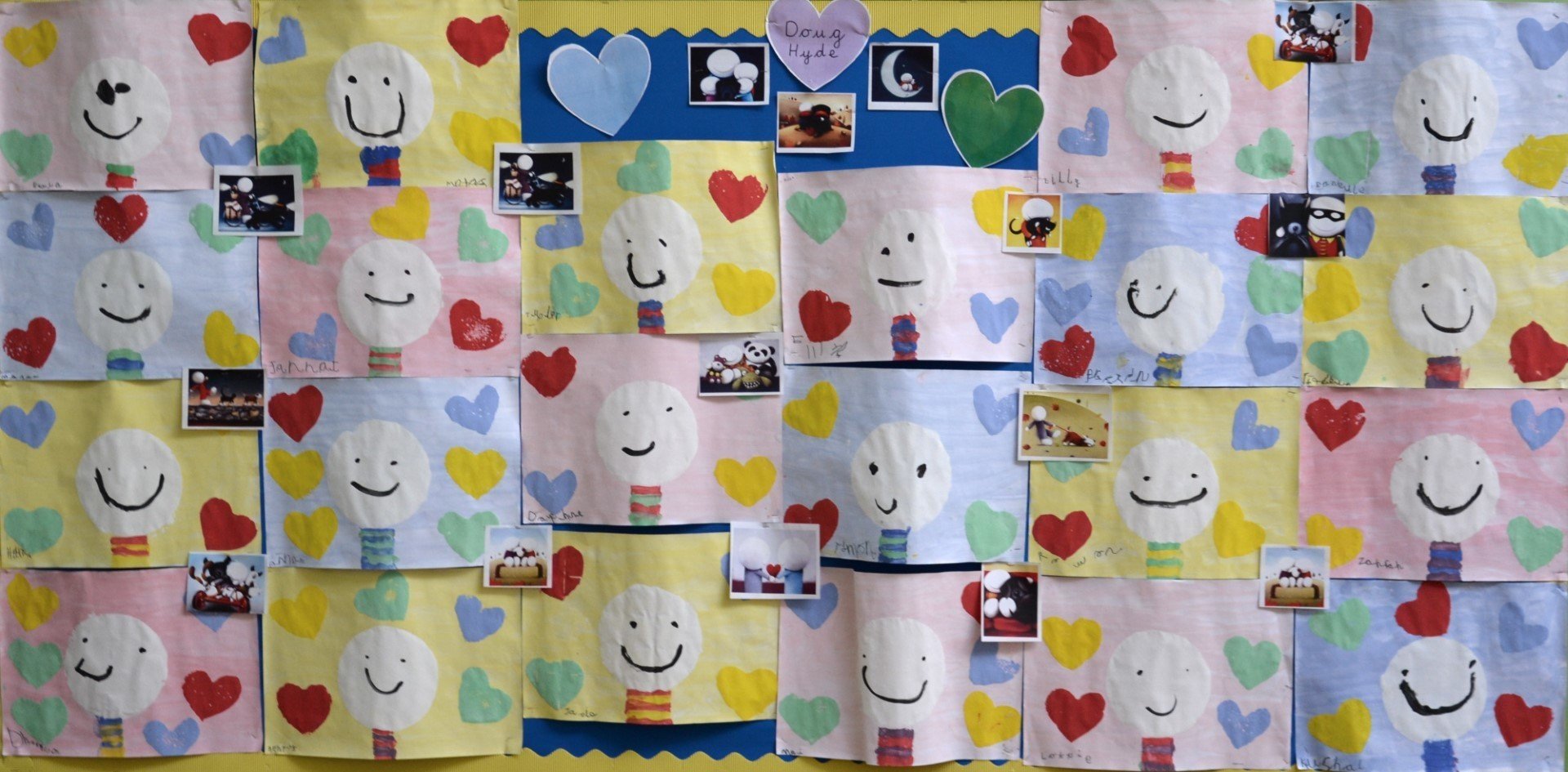 People Who help Us

We found out about the Emergency services and all the people who help us in our community.

We interviewed Mrs Tuson about how her job in the office helps us all at school.

We were very lucky to have Firefighter Steve from Southsea fire Station come to visit. We asked him lots of questions and he dressed up Mrs Bradley in his uniform!
Dylan's daddy, Police Sergeant Ainsley, came to visit too, to tell us about his job and answer our questions.
He showed us all the different types of hats that he wears.
We made our own Emergency vehicles out of recycled materials and painted them to look like the real thing.

Goldilocks and the Three Bears

We read the story of Goldilocks and the Three bears. We made porridge and wrote letters from Goldilocks apologising to the Bears. The children made warning signs to scare Goldilocks away.

Science Week

Be Safe and Be Seen

We designed T shirts to make sure we could be seen if we went on a Bear Hunt.

We used reflective materials and tested our designs in a dark tent (the bear cave) with a torch!
Slippery Slopes

We investigated different substances – honey, oil and soap suds to see which were the fastest and slowest to travel down the slopes

WE'RE GOING ON A BEAR HUNT!

IIn Literacy we have been learning the story of 'We're going on a Bear Hunt' by Michael Rosen.

The children used their writing skills to create their own story maps.
| | | |
| --- | --- | --- |
| | We learnt the story using actions, and then changed the story to make it our own. We innovated the story and loved trying to think of a different animal and different places to travel through. | |
| | | |
| --- | --- | --- |
| | Autumn Term 2019 | |

We have all enjoyed settling into Devonshire Infants and have been very busy making new friends and learning new routines

Self Portraits

One of our first jobs was painting a portrait of ourselves.

Owl Babies

During the first half term, we read the book 'The Owl Babies' by Marin Waddell. We used 'Talk for Writing' to help us learn the story off by heart. First we drew a story map and then we made up our own actions and performed the story as a whole class. The actions really helped us to remember the story. We were so glad that Sarah, Percy and Bill's mummy came back to them!

The Little Red Hen

We read the story of The Little Red Hen and then made our own delicious bread. We even tried grinding wheat to make flour!

Kandinsky
| | | |
| --- | --- | --- |
| | During the first half term we learnt all about an artist called Wassily Kandinsky. He was a Russian artist who used lines and shapes as well as colour in his art work. We drew our own 'concentric circles' in the style of Kandinsky. | |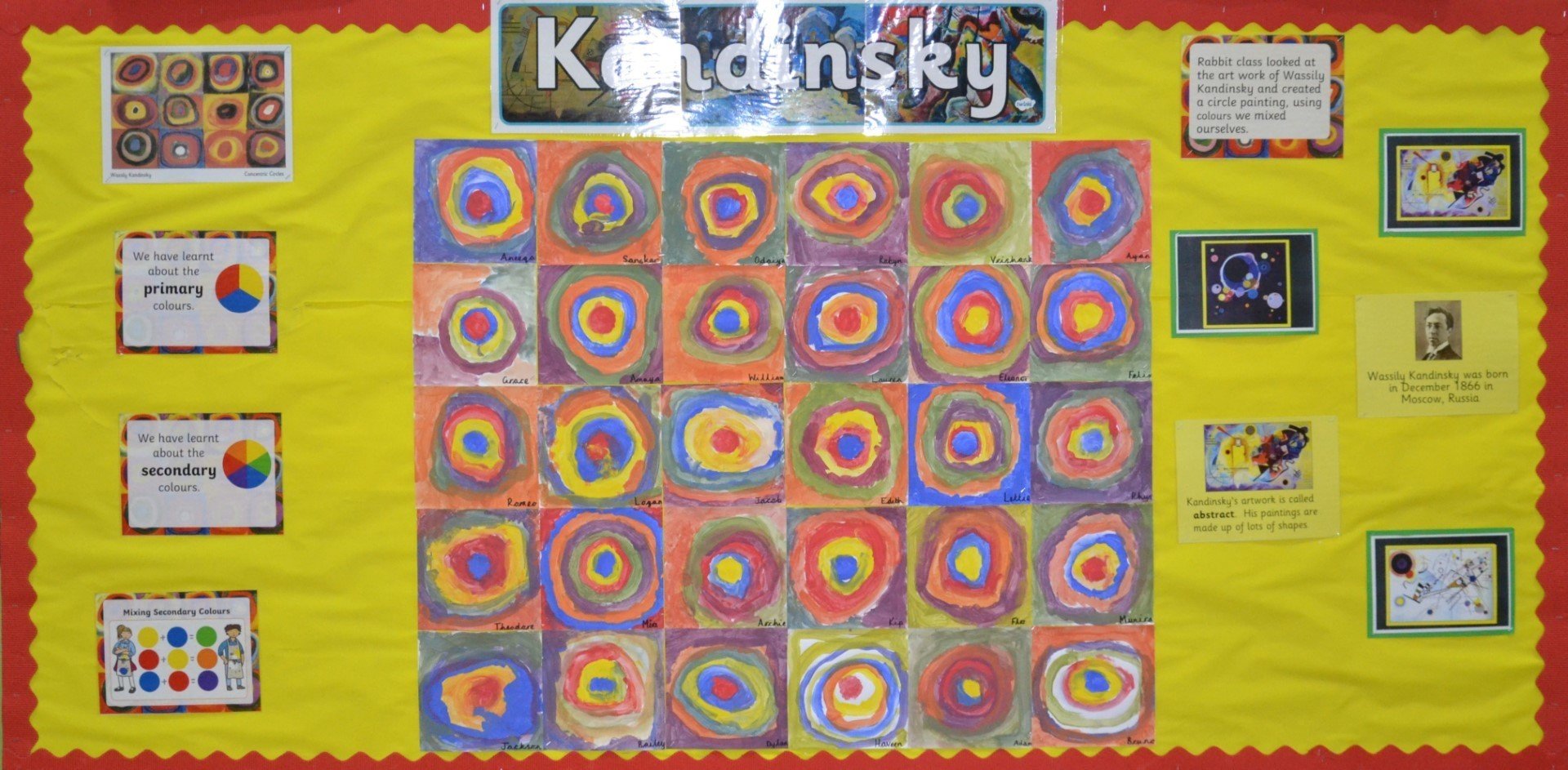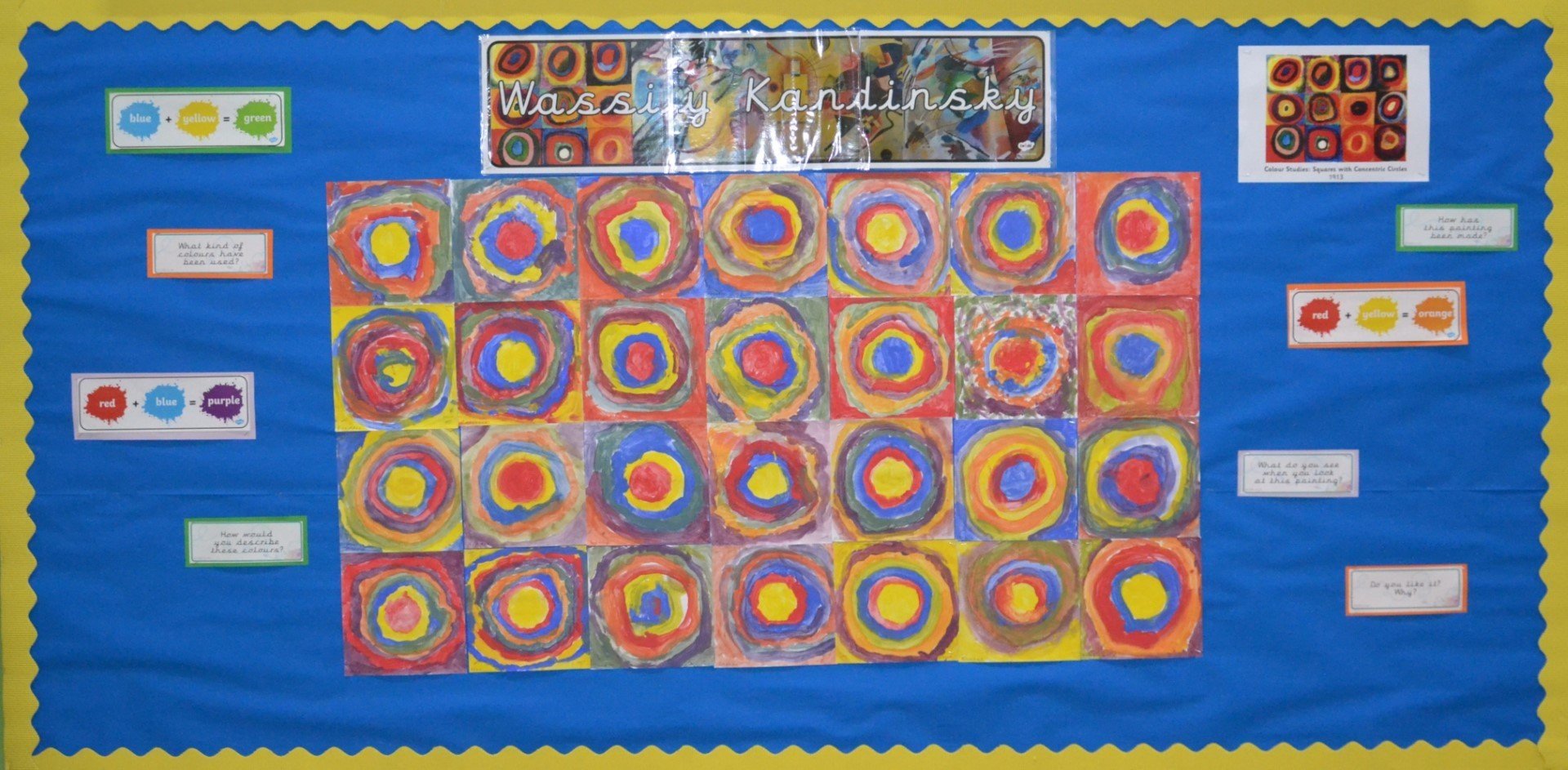 Nursery Rhymes
| | | |
| --- | --- | --- |
| | This half term we have been learning all about nursery rhymes. We have been reciting them and acting them out using props or with puppets which we have made ourselves. Our 'Talk for Writing' has been based on the book 'Each Peach Pear Plum' by Janet and Allan Ahlberg. The book is full of all of our favourite nursery rhyme characters. We followed our story map and then used actions to help us remember the story. | |
| | | |
| --- | --- | --- |
| | We looked at historical artefacts that might have been found in the kitchen of the Nursery Rhyme character, Old Mother Hubbard. | |

Friendship Week
| | | |
| --- | --- | --- |
| | The children were joined together with paper chains to a friend and were challenged to negotiate the obstacles around the playground without breaking their chain. | |

Elmer
We enjoyed reading stories about Elmer and his friends. We made our own colourful elephant hats and took part in an Elmer parade.

Special Clothes and Celebrations

We thought about special times with our families and times when we wear special clothes. We had the chance to dress up in lots of different kinds of special clothes in our Chinese restaurant.

Christmas Performances
Everyone was very impressed with our singing of 'Uh-Huh, Oh Yeah!' in the Christmas production of 'The Innspectors.'
Santa's Workshops
| | | |
| --- | --- | --- |
| | Thank you to all the parents that came to school and helped make Christmas decorations. | |