The Rabbits

Year

R

The Fieldmice
Welcome to Reception – We are Rabbit and Fieldmice class!
| | | |
| --- | --- | --- |
| | Summer Term 2023 | |
| | | |
| --- | --- | --- |
| | What a busy Summer Term we have had! Find out about the exciting and fun things we have been doing! | |
Popell Barns Farm

Popell Barns Farm came to visit our school. The children enjoyed meeting the animals and learning all about them.

Ducklings

What an amazing 'eggsperience'! 5 eggs were delivered to our school.

We watched and waited and we were lucky to welcome new baby ducklings into the world.

We looked after the ducklings and enjoyed teaching them to swim.

Art Week Monet

In our Art week the children looked at and created their own pictures in the style of Claude Monet.

Minibeasts

We found out about lots of different minibeasts and enjoyed the stories of the Very Hungry Caterpillar and The Very Busy Spider by Eric Carle.

We had 5 caterpillars that turned into butterflies and we released them in our garden.

Creative Arts Week

During Creative Arts week we had so much fun! Jim came to our school and taught us Brazilian Samba and Caribbean steel pan drumming.
| | | |
| --- | --- | --- |
| | We also learnt about African art and we printed our own patterns. | |
| | | |
Olivia from Zest dance company taught us how to do American line dancing and Mexican dance .

We had so much fun practising and performing our dances.

Sports Day

We all enjoyed Sports Day. We split up into coloured teams and then enjoyed a variety of activities.!

A big thank you to all of the parents who came to cheer us on and support us.

Canoe Lake Trip

In July the whole of Reception went on a school trip to Canoe Lake. We had a wonderful time.

We visited the Butterfly House, the Rose garden, the play park, walked along the promenade, hunted for minibeasts and had a picnic!

| | | |
| --- | --- | --- |
| | Spring Term 2023 | |

Penguins and Antarctica

We found out lots of different facts about Penguins and the contrasting environment of Antarctica. We read lots of stories about Penguins.

Our favourites were 'Penguin' by Polly Dunbar and 'Lost and Found' by Oliver Jeffers. We painted pictures of different type of penguins.

Circus Week

We had lots of fun learning circus tricks for the very first time!

We learnt how to spin plates, balance feathers, spin the diablo, walk the tightrope and many more.

The best part was getting all dressed up at the end of the week!
People Who Help Us

We learned all about the Emergency Services - Firefighters, Police Officers and Doctors and Nurses.
We designed and made models of Fire Engines.

Doug Hyde Art Week

Doug Hyde is the most popular contemporary living artist in the UK.

Here are some of his pictures.
| | | |
| --- | --- | --- |
| | We created our own paintings in the style of Doug Hyde, using printing and painting techniques. | |

Goldilocks and the Three Bears

We read the story of Goldilocks and the Three Bears. We made porridge and wrote letters from Goldilocks apologising to the Bears. The children made warning signs to scare Goldilocks away.

We're Going on a Bear Hunt!

In Literacy we have been learning the story of 'We're going on a Bear Hunt' by Michael Rosen.

The children used their creative skills to create their own collage story maps.
We learnt the story using actions, and then changed the story to make it our own.

We innovated the story and loved trying to think of a different animal and different places to travel through.
We made our own bear caves.

The children had to make sure they could fit the bear in through the mouth of the cave, the cave had to be dark inside and camouflaged on the outside.
The children also designed bright and reflective outfits for a bear so the bear could be seen in the cave.

They tested their designs in a dark tent with torches!

| | | |
| --- | --- | --- |
| | Autumn Term 2022 | |

We have all enjoyed settling into Devonshire Infants and have been very busy making new friends and learning new routines.


One of our first activities was reading 'The Colour Monster' and 'The Colour Monster goes to school' by Anna Llenas and making our own colour monsters.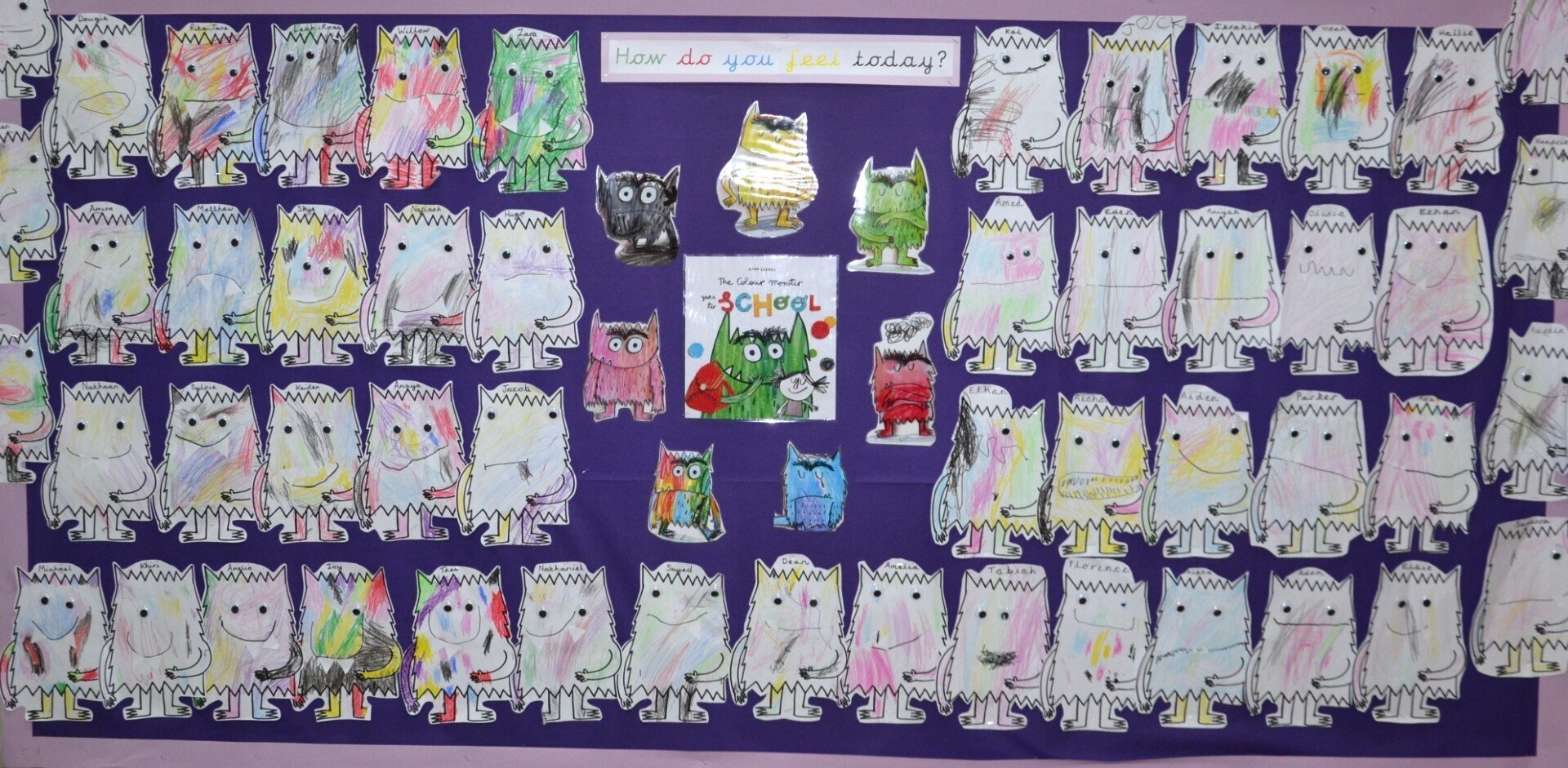 Owl Babies

During the first half term, we read the book 'The Owl Babies' by Martin Waddell. We used 'Talk for Writing' to help us learn the story off by heart.

First we drew a story map and then we made up our own actions and performed the story as a whole class.

The actions really helped us to remember the story.

Autumn

The children have been learning about the seasons and we listened to the story of Percy the Park Keeper 'After the storm'.

We used our senses to investigate autumnal objects and we tried to describe what we observed.

The Little Red Hen

We read the story of The Little Red Hen.

We made windmills and created Little Red Hen collage pictures.
Fireworks

We made firework pictures on the 5th November. We listened to the sounds of fireworks as we created our pictures.

Nursery Rhymes
This half term we have been learning all about Nursery Rhymes. We read the book 'Each Peach Pear Plum' by Janet and Allan Ahlberg.

The book is full of Nursery Rhyme characters and we followed our story map and then used actions to help us remember the story.

We enjoyed learning new and old rhymes..
| | | |
| --- | --- | --- |
| | We looked at historical artefacts that might have been found in the kitchen of the Nursery Rhyme character, Old Mother Hubbard. | |

Friendship Week
The children were joined together with paper chains to a friend and were challenged to negotiate the obstacles around the playground without breaking their chain.

The children were encouraged to use positional language to instruct their friend where they needed to go.

Kandinsky

During the second half term we learnt all about an artist called Wassily Kandinsky.

He was a Russian artist who used lines and shapes as well as colour in his art work.

We painted our own 'concentric circles' in the style of Kandinsky.

Christmas

We have had lots of fun preparing for Christmas.

We made decorations at our Santa's workshop, played party games and danced at our Christmas party and made cards and calendars for our families.