The Owls

Communication and Interaction Inclusion Centre
| | | |
| --- | --- | --- |
| | Summer Term 2019 | |
Miller's Ark

Miller's Ark Farm came to Devonshire. The children enjoyed looking and learning about each animal and spending time with them. The played vets in the role play area and made some farm yard pictures.
Monet

The YR children studied Monet during Art week and learn about his style of painting and his love of lily ponds. The children used a variety of techniques to recreate their own lily pond and embellished their work with tissue paper to create the lily petals. The children then created a dance with ribbons to represent the water.
Repin

The Key stage 1 children learnt about the artist Repin. They looked at the picture of the 'Rising Moon' and created their own work in the style of Repin, using the skills of drawing, and pastel work. We also learned the about 'night time' and nocturnal animals, creating fact files about them.
Creative Arts Week

In June we had a creative arts week entitled 'Around the world'. The children experienced aboriginal art, line dancing and Salsa dancing, and Caribbean and Brazilian music, all provided by expert artists who visited school. We studied some local art work by …. and we looked at the world geography and had lots of discussions about lots of places!
Mini Beasts

Our next topic was all about mini beasts. The children loved learning about the Hungry Caterpillar and we watched some real caterpillars go into cocoons and develop into butterflies. We the let them fly free. We also studied some snails and ladybirds, then YR Owls went to the Queen Elizabeth Country park for our summer trip.
| | | |
| --- | --- | --- |
| | Queen Elizabeth Country Park | |
Marwell Zoo

Key stage 1 Owls visited Marwell Zoo for their summer trip as they were learning about animals and habitats. The children also came across a plant that looked familiar to a 'stinky' plant in a recent story they had listened to and wanted a photo next to it!
Sports Day

We have also enjoyed Sports day this term. The weather was beautiful and the children worked really hard to gain points for their team. We had too teams Owls Black YR and Owls Black Key Stage 1. They worked really hard together to earn points and enjoyed the event. Well done Owls!
| | | |
| --- | --- | --- |
| | | |
| | Spring Term 2019 | |
Winter

We started the term looking at 'winter'. We looked at the children's photos from last year, playing in the snow and discussed how we need to dress for the cold weather. We thought about how it would be extremely cold in the Polar Regions and then looked at how the Penguins coped with it. We watched some video clips and then created a dance about Penguins with eggs, and we moved like penguins in water. The children also used the penguins to learn about positional language.
Circus Week

January is such an exciting time at Devonshire as we have Circus week! We learn lots of skills each day and then perform to our parents in the 'greatest show on earth' at the end of the week when our hall transformed into a 'Big Top'. All the children and staff perform and fun is had by all! We practice every day for a week.
People who help us

Out next topic, 'People who help us', enabled the children to look closely at the people and community around them and reflect on and respect how much these people help us. Fortunately, we had some people who work in school who were kind enough to spare some time to come and talk to us about their role. We had sessions with a Caretaker and Finance Manager and Headteacher.
Art Week

Our Artist week was all about Doug Hyde. We learnt about his style of art and how he uses people and animals in his pictures. The children chose one picture they liked best and then created their own version.
We're going on a bear hunt

The children read the story 'We're going on a bear hunt'. They acted out the story and used a 'talk for writing' story map to begin to learn the words. They then made their own story maps and painted their scenes but changed the story so they would find something different. We made a class story called, 'We're going on a dragon hunt! Guess what we found! We also used clay to create our own bears and used large equipment to create a bear hunt in the hall during PE.
Puppets

Some children have been learning about puppets and looked at different types of puppets before making their own hand puppet. The chose their own design and created it by sewing it together and then adding embellishments.
The Great Fire of London

The Year 1 and 2 Owls have been learning about The Great Fire of London and even made their own bucket chain to see what it would feel like trying to put of the fire. They watched a performance of Samuel Pepys and used pastels to create his portrait.
Science Week

They also had lots of fun during science week, playing with colour and experimenting with cornflour and vinegar. What a chemical reaction that surprised everyone!
Winchester Science Museum

They also visited Winchester Science Museum and had a very interesting day trying out all the experiment and watching the planets in the planetarium.
Planting Bulbs

Another interesting session was when the Owls planted some bulbs ready for the hot summer.
Puzzle Mornings

Finally a big thank you to all those parents who joined us for our Puzzle mornings. They were well attended and both adults and children seemed to have lots of fun.
| | | |
| --- | --- | --- |
| | Autumn Term 2018 | |
| | | |
| --- | --- | --- |
| | Most Owls started school in September and soon got comfortable with the school environment and class routines. They started with a topic 'All about me' which helped everyone to get to know each other and encouraged the children to talk about themselves, their families, their likes and dislikes. | |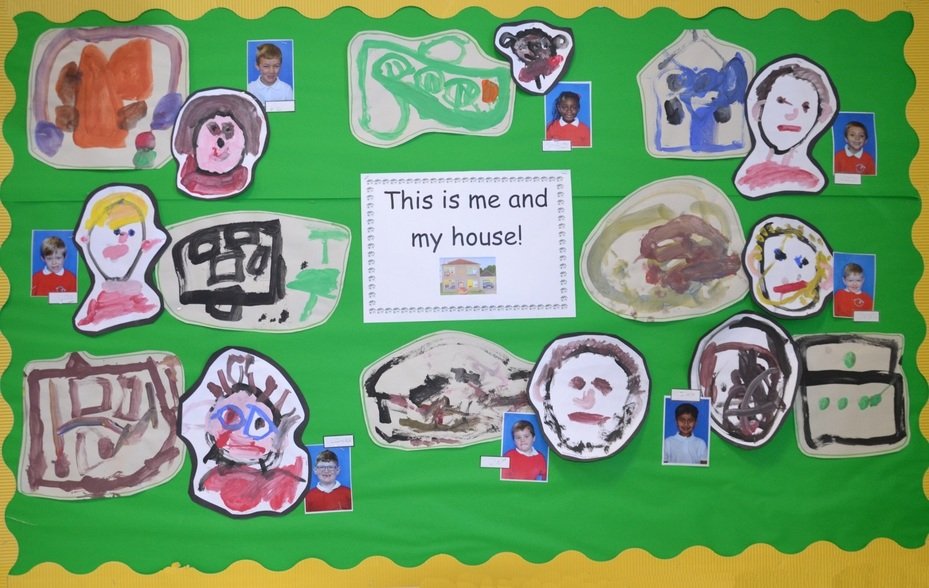 Letter Sounds
It was also a time to start learning some letter sounds which the children have done really well with.
Books

We read the book 'Owl babies' and learnt how to recite parts of the text. The children also recreated their own owl pictures by using different textured paper to make the branch and paint and pens to create the owls themselves. 'Percy the park keeper' story was a distinct favourite among the children and the children enjoyed making lists of tools Percy might need for his jobs. They also enjoyed using their name to print with and make monsters!

Zoolab

The children enjoyed a visit from Zoolab and were able to handle a variety of small creatures.
Art Week

Our Art week this term was all about the artist Kandinsky. The children learnt about his life, his work and style of painting. They then had go at mixing their own colours to make their own concentric circles.

Elmer the Elephant

We looked at the story of 'Elmer' the elephant and discussed the issue of him being different to other elephants and how we can celebrate differences. We used Elmer elephants to help us with our recognition and ordering of numbers. We also made our own herd of elephants and had an elephant parade. Year 2 children also learn about Roald Dahls 'Enormous Crocodile' and made a display to show the animals that were in the story.

Nursery Rhymes

After half term, we looked at a whole range of nursery rhymes and a favourite was 'Humpty Dumpty'. We also learn to retell the story of 'Each Peach, Pear, Plum' by using a story map.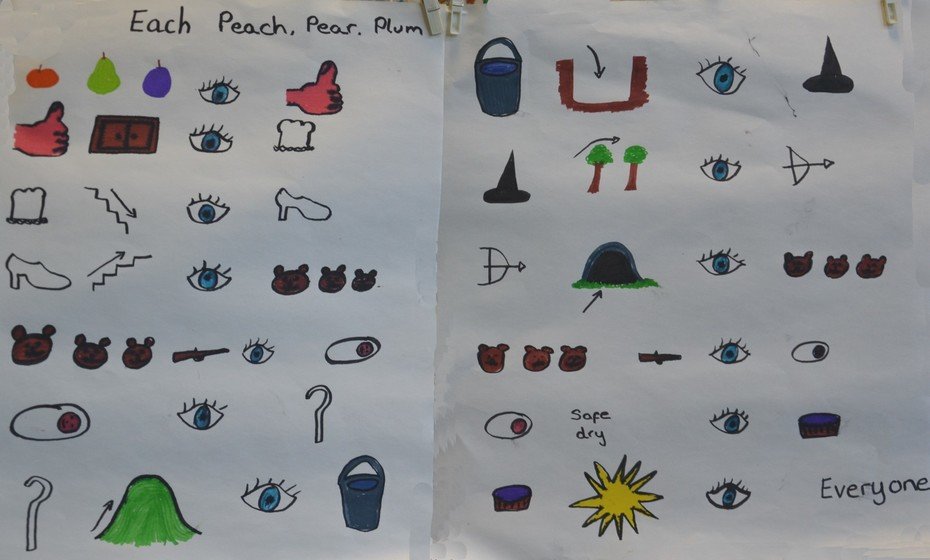 Friendship Week

During anti-bullying week (known as friendship week in reception) we continued the theme of working together and being a 'good' friend. We used lots of activities to work together and learning about using kind hands and kind words.

The Gunpowder Plot
Year two also learn about Guy Fawkes and hand printed their own bonfires.
HMS Warrior

Our Year two children had a fantastic time visiting HMS Warrior in Portsmouth Historic Dockyard.

Christmas

A very busy term, and then we had Christmas!