The Rabbits

Year

R

The Fieldmice
Welcome to Reception – We are Rabbit and Fieldmice class!

Autumn Term 2016

We have all enjoyed settling into Devonshire Infants and have been very busy learning new routines and all about our exciting topics.

Owl Babies

During the first half term, we read the book 'The Owl Babies' by Marin Waddell. We used 'Talk for Writing' to help us learn the story off by heart. First we drew a story map and then we made up our own actions and performed the story as a whole class. The actions really helped us to remember the story. We were so glad that Sarah, Percy and Bill's mummy came back to them!

The Little Red Hen

We read the story of The Little Red Hen and then made our own delicious bread. We even tried grinding wheat to make flour!

Kandinsky
| | | |
| --- | --- | --- |
| | During the first half term we learnt all about an artist called Wassily Kandinsky. He was a Russian artist who used lines and shapes as well as colour in his art work. We drew our own 'concentric circles' in the style of Kandinsky. | |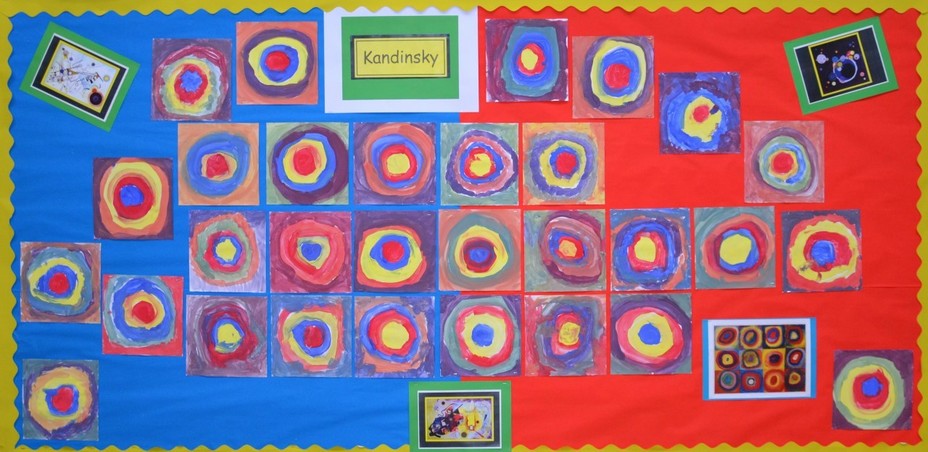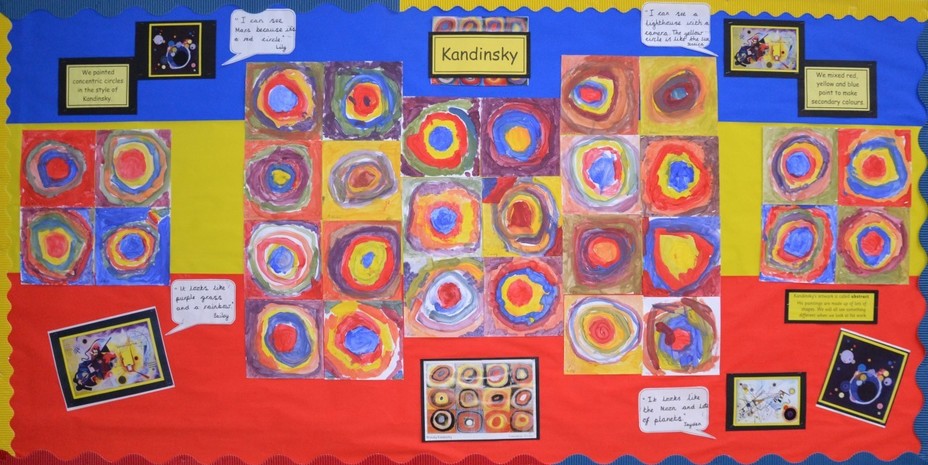 Nursery Rhymes
| | | |
| --- | --- | --- |
| | This half term we have been learning all about nursery rhymes. We have been reciting them and acting them out using props or with puppets which we have made ourselves. Our 'Talk for Writing' has been based on the book 'Each Peach Pear Plum' by Janet and Allan Ahlberg. The book is full of all of our favourite nursery rhyme characters. We followed our story map and then used actions to help us remember the story. | |
| | | |
| --- | --- | --- |
| | We looked at historical artefacts that might have been found in the kitchen of the Nursery Rhyme character, Old Mother Hubbard. | |

All Dressed Up
| | | |
| --- | --- | --- |
| | We thought about special times with our families and times when we wear special clothes. We had the chance to dress up in lots of different kinds of special clothes. | |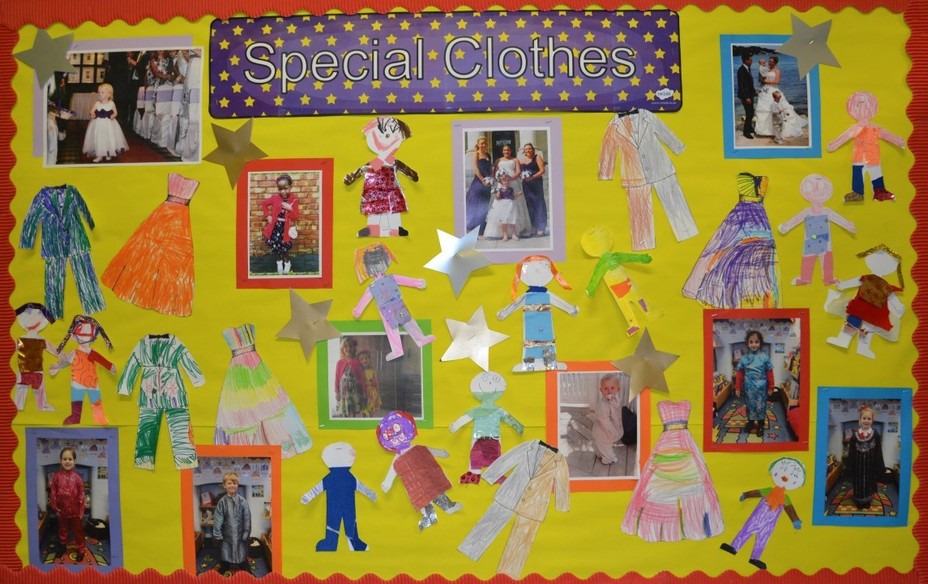 Santa's Workshops
| | | |
| --- | --- | --- |
| | A big thank you to all those parents who joined us for Santa's Workshop. They were well attended and both adults and children seemed to have lots of fun. | |

Spring Term 2017

Penguins

A Our topic for this first half term has been Winter and Penguins. We have been learning lots of different facts about Penguins. Did you know that the Daddy penguin has to look after the baby eggs whilst the mummy penguin goes looking for food?

Look at our fantastic Penguin displays!
| | | |
| --- | --- | --- |
| | We have also been reading the book called 'Penguin' by Polly Dunbar. We made up our own book, based upon this one and thought up our own ideas of how to get the penguin to smile or speak. Here are some of our ideas… | |
| | | | | |
| --- | --- | --- | --- | --- |
| | "Give him some ice to play with." | | "Go to the North Pole and get a polar bear for him to play with." | |
| | | | | |
| --- | --- | --- | --- | --- |
| | "Blow bubbles at him." | | "Build him an Igloo to shelter from the snow." | |

The Chimpanzees of Happy Town

What an exciting time we had on our first trip to see a musical production of the story 'Chimpanzees of Happy Town at the Guildhall. We saw a live orchestra play lots of different instruments and our toy monkeys came along to see the show too.

The Circus came to town!

What a lot of fun we had learning circus skills for the very first time! We learnt how to spin plates, balance feathers, spin the diablo, walk the tightrope and much more. The best part was getting all dressed up and performing to our parents at the end of the week.

Spelling Bee

We all tried really hard to learn our spellings for the Spelling Bee competition. We all enjoyed taking part. The five finalists got a medal and the winner got a fantastic spelling bee trophy. All the teachers are very impressed to see how well we are spelling our tricky key words.

WE'RE GOING ON A BEAR HUNT!

In Literacy we have been learning the story of 'We're going on a Bear Hunt' by Michael Rosen. We learnt the story using actions, and then changed the story to make it our own. We loved trying to think of a different animal and different places to travel through. Why don't you listen to our story?

Puzzle Mornings

Finally a big thank you to all those parents who joined us for our Puzzle mornings. They were well attended and both adults and children seemed to have lots of fun.
Summer Term 2017

What a busy Summer Term we have had! Read all about the exciting and fun things we have been learning about!

Miller's Ark

Miller's Ark Farm came to visit our school. The children enjoyed meeting the animals and learning all about them.
| | | |
| --- | --- | --- |
| | Look at our fantastic farm display! | |
| | | |
Chicks

What an amazing 'eggsperience'! 12 eggs were delivered to our school. We watched and waited and we were lucky to welcome 12 new baby chicks into the world. How 'eggciting'! We looked after the chicks and learnt a lot about them until it was time for them to go back to the farm.
Monet

In our Art week the children looked at and created their own pictures in the style of Claude Monet. Our work was framed and displayed in an art exhibition for our parents.

Queen Elizabeth Country Park

In June the whole of reception went on a school trip to Queen Elizabeth Country Park. We went by coach and the weather was lovely! We split up into groups and took part in different activities.
We enjoyed making our very own mini beast sculptures using the natural materials around us. As a group we chose which minibeast to create then worked well as a team to collect sticks, rocks, twigs and leaves to create it.

Creative Arts Week

During Creative Arts week we had so much fun! Jim came to our school and taught us how to drum in Samba and Chinese style, we even got to use a big Gong……it was so loud!
As well as music we also learnt about Aboriginal art which is based upon a style of art called 'Pointillism'. We designed our own patterns in the style of Aboriginal paintings. We thought it was funny using cotton buds to create 'dots' rather than a paintbrush- even if it did take ages to finish!

Hungry Caterpillars and Beautiful Butterflies

As part of our Hungry Caterpillar topic, we had 10 tiny caterpillars arrive at our school! They started off tiny but soon grew until they had built their cocoon. Two weeks later they transformed into beautiful butterflies and we put flowers and sweet sticky fruit into their nets for them. Once their wings had dried we took them outside to be released. We hope they will be ok!
Sports Day

At the beginning of July was Sports Day, luckily it didn't rain! We all split up into coloured teams and then enjoyed a variety of activities such as hurdles, dribbling the football, scoring goals, trike racing and egg and spoon races! A big thank you to all of the parents who came to cheer us on and support us.