The Owls

DEVELOPMENT ASSESSMENT UNIT
| | | |
| --- | --- | --- |
| | Autumn Term 2016 | |
| | | |
| --- | --- | --- |
| | Most Owls started school in September and soon got comfortable with the school environment and class routines. They started with a topic 'All about me' which helped everyone to get to know each other and encouraged the children to talk about themselves, their families, their likes and dislikes. | |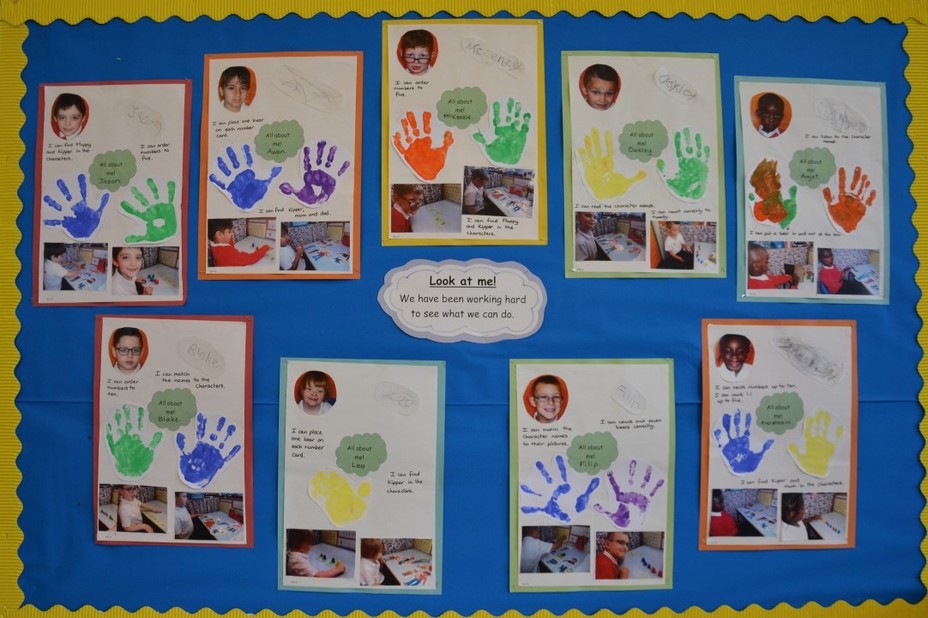 It was also a time to start learning some letter sounds which the children have done really well with.
| | | |
| --- | --- | --- |
| | We read the book 'Owl babies' and learnt how to recite parts of the text. The children also recreated their own owl pictures by using different textured paper to make the branch and paint and pens to create the owls themselves. | |
| | | |
| --- | --- | --- |
| | 'Percy the park keeper' story was a distinct favourite among the children and the children enjoyed making lists of tools Percy might need for his jobs. | |

Art Week

Our Art week this term was all about the artist Kandinsky. The children learnt about his life, his work and style of painting. They then had go at mixing their own colours to make their own concentric circles..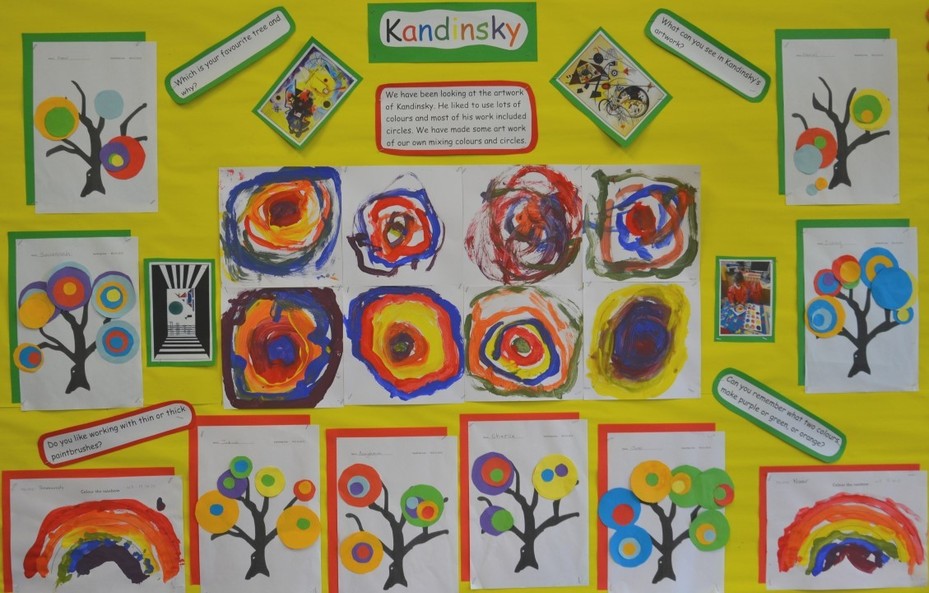 | | | |
| --- | --- | --- |
| | We looked at the story of 'Elmer' the elephant and discussed the issue of him being different to other elephants and how we can celebrate differences. We used Elmer elephants to help us with our recognition and ordering of numbers. We also made our own herd of elephants and had an elephant parade. | |

| | | |
| --- | --- | --- |
| | After half term, we looked at a whole range of nursery rhymes and a favourite was 'Humpty Dumpty'. | |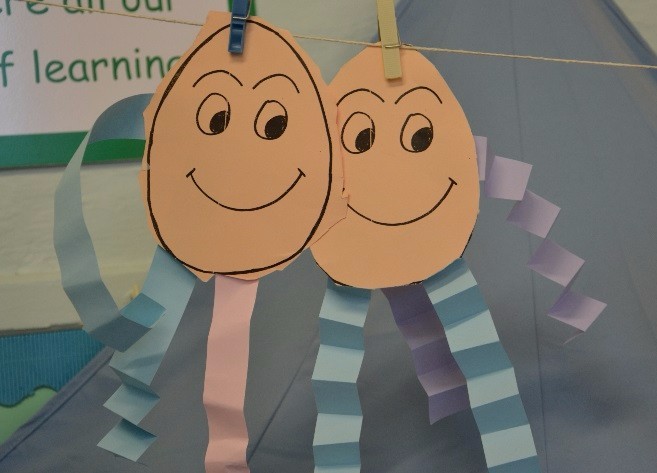 | | | |
| --- | --- | --- |
| | Another favourite activity the children had great fun was when they made their own jam tarts, just like the Queen of Hearts! | |

| | | |
| --- | --- | --- |
| | During anti-bullying week (known as friendship week in reception) we continued the theme of working together and being a 'good' friend. We used lots of activities to work together, making Humpties, happy and sad faces, but the favourite was 'drumming'. We managed to all beat in time and stop at the same time too! | |

| | | |
| --- | --- | --- |
| | Watching the Puppet man who visited was a great treat, and the Owls sat really attentively which was fabulous to watch. | |
| | | |
| --- | --- | --- |
| | We all had fun at Kipper's birthday party, having made him a cake, which then led us into our celebrations for Christmas topic! A very busy term! | |

| | | |
| --- | --- | --- |
| | Spring Term 2017 | |
Penguins

We started the term looking at 'winter'. We looked at the children's photos from last year, playing in the snow and discussed how we need to dress for the cold weather. We thought about how it would be extremely cold in the Polar Regions and the looked at how the Penguins coped with it. We watched some video clips and then created a dance about Penguins with eggs, and we moved like penguins in water.

We also used penguins to help us learn how to add and subtract numbers and we observed them closely to draw and create stories about.

Circus Skills

January is such an exciting time at Devonshire as we have Circus week! We learn lots of skills each day and then perform to our parents in the 'greatest show on earth' at the end of the week when our hall transformed into a 'Big Top'. All the children and staff perform and fun is had by all!
Chinese New Year

We also celebrated Chinese New Year by making lucky money bags and finding out what animal year we were born in. We made some lanterns and moveable dragons, and had our own drumming session with a dragon and lion dance.
People who help us

Out next topic, 'People who help us', enabled the children to look closely at the people and community around them and reflect on and respect how much these people help us. Fortunately, we had some people who work in school who were kind enough to spare some time to come and talk to us about their role. We had sessions with a Caretaker and Office worker.
Doug Hyde

We started the term with a Doug Hyde Art week. We learnt about his style of art and how he uses people and animals in his pictures. The children chose one picture they liked best and then created their own version.

Goldilocks and the three bears

Goldilocks and the three bears decided to come to the classroom too, and they told us the story of what happened to the porridge, the chair and the bed! The children then tried each of the bears' porridge to find out which one they liked best and if they agreed with Goldilocks.
We're going on a bear hunt

The children read the story 'We're going on a bear hunt'.

They acted out the story and used a 'talk for writing' story map to begin to learn the words. They then made their own story maps and painted their scenes but changed the story so they would find something different. We made a class story called, 'We're going on a dinosaur hunt! Guess what we found!

1 long scaly nose
2 dark blinking eyes
1 heavy thudding tail
2 big thumping feet

It's a Dinosaur!

Happy Easter everyone!
Puzzle Mornings

Finally a big thank you to all those parents who joined us for our Puzzle mornings. They were well attended and both adults and children seemed to have lots of fun.
| | | |
| --- | --- | --- |
| | Summer Term 2017 | |
Miller's Ark

Miller's Ark Farm came to Devonshire. The children enjoyed looking and learning about each animal and spending time with them. The played vets in the role play area and made some farm yard pictures.
Chick Week

The children really loved chick week, when the farmer brought in some eggs in an incubator and the children watched the eggs hatch. Once they were big enough the children handled the chicks and it was a truly amazing experience for them.
Art Exhibition

The children studied Monet during Art week and learn about his style of painting and his love of lily ponds. The children used a variety of techniques to recreate their own lily pond and embellished their work with tissue paper to create the lily petals. Once the pictures were finished the work was exhibited in a school exhibition.
Creative Arts Week

In June we had a creative arts week entitled 'Around the world'. The children experienced aboriginal art, Bollywood and African dancing, and Chinese and Brazilian music, all provided by expert artists who visited school. We looked at the world geography and had lots of discussions about lots of places. We also made our own version of the world during an RE session.
Queen Elizabeth Country Park

Our next topic was all about mini beasts. The children loved learning about the Hungry Caterpillar and we watched some real caterpillars go into cocoons and develop into butterflies. We the let them fly free. We also studied some snails and ladybirds, then went to the Queen Elizabeth Country park for our summer trip.
Sports Day

At the beginning of July was Sports Day, luckily it didn't rain! We all split up into coloured teams and then enjoyed a variety of activities such as hurdles, dribbling the football, scoring goals, trike racing and egg and spoon races! A big thank you to all of the parents who came to cheer us on and support us.